Getting Started with Dressage
The perfect course to get you started with dressage
Are you wanting to get started with Dressage?
This course will show you everything you need to know to start your Dressage journey.
Start Now!
GETTING STARTED WITH DRESSAGE
All the tools you need
Starting out on your Dressage journey can be daunting but we've got you covered with lessons including:
How Dressage is scored
Secrets of learning a test
Improving your horse's posture
Rider position and aids
Paces and arena movements
Dealing with tension
What to do on the day
and much more....
Study at your own pace
The course is yours to keep so you can study at your own pace.
ENROLL NOW
In a few short weeks, you could…
Understand what Dressage is all about
Be able to ride the movements required for entry-level tests
Feel confident heading out to your first competition
What's included in the course...
MODULE 1
Dressage Essentials
All the things that no-one ever tells you:
What is the 'training scale'?
How is my test scored?
How should I present myself and my horse on the day?
We'll dive into all of this so that you arrive at your first competition with confidence.
MODULE 2
Your Horse's Way of Going
How your horse travels around the arena is an important part of Dressage. In these lessons, you'll learn all about:
Horse posture
Bend and flexion
Paces
Dealing with tension
You'll finish this module with a relaxed horse that moves freely around the Dressage arena.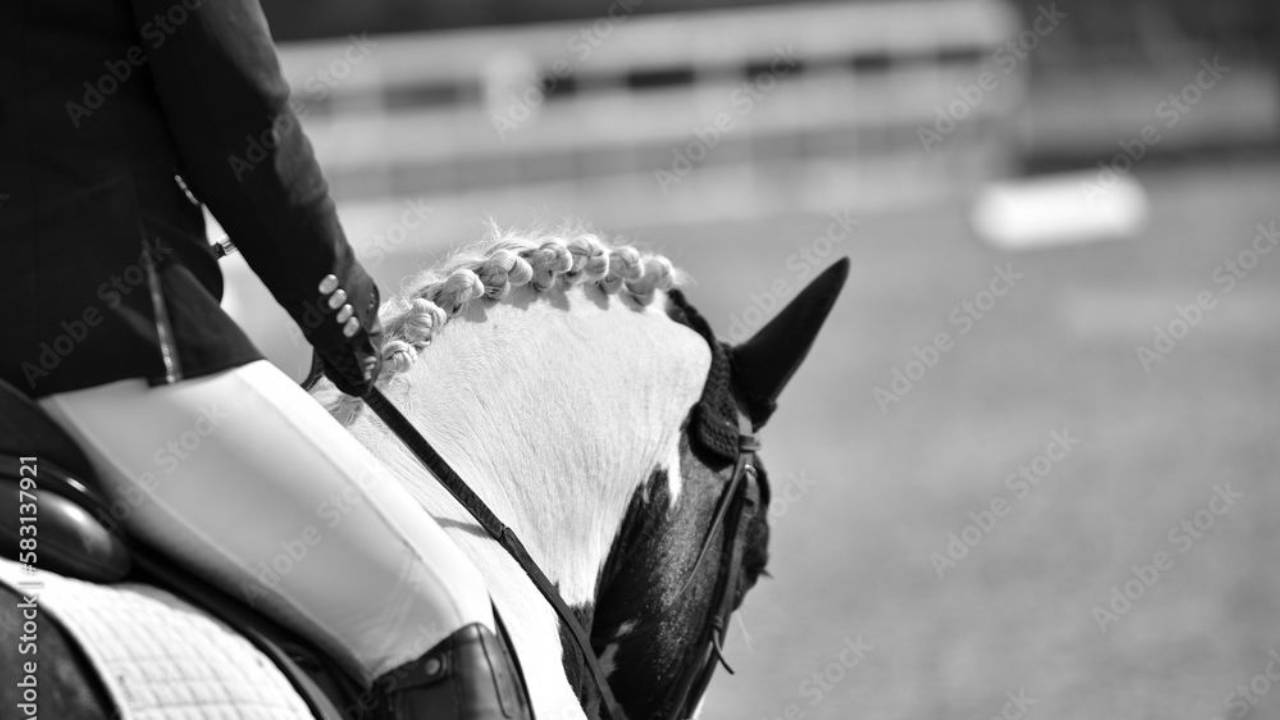 MODULE 3
Dressage Movements
Riding accurately at this level is very important. In these lessons, you'll learn:
How to ride accurate circles
How to use the bend and flexion to ride loops and serpentines
Riding corners, diagonals, centre-lines and more
You'll finish this module with a clear understanding of how to ride each of the movements required for the tests you'll encounter.
MODULE 4
Rider Position
Many of us worry that we don't have the perfect position to ride Dressage. In this module, you'll learn some simple techniques to improve your position, such as:
Rider alignment
Getting the correct trot diagonal
Carrying a Dressage whip
Practising these exercises will ensure you ride your first centre-line with a smile.
MODULE 5
On the Day
In this module, we take you to a Dressage venue to get a real feel for what to do on the day. Lessons include:
How to call a test
What the judge sees
What to do when things go wrong
What to do if your horse isn't ready to compete
We'll show you real riders riding tests and get judges' feedback.
MODULE 6
The Training Principles
In this module,, we'll dive deeply into the International Society for Equitation Science Training Principles. In these lessons, we'll cover:
Horse and human safety
Horse ethology
The horse's mental and sensory abilities
The horse's emotional state
The use of habituation and desensitization
The use of operant and classical conditioning
How to use shaping
The correct use of signals and cues
Understanding self-carriage
You'll finish this module with a clear understanding of the Training Principles and how they apply to Dressage.
This course is for you if...
You've always wanted to have a go at Dressage but have not yet made a start
You've ridden a few tests but felt out of your depth
You're just not quite confident enough to have a go
You've got a new horse and want to embark on a new journey
You think it's time to change discipline for you and/or your horse
You understand that Dressage training will improve the performance of any horse, regardless of discipline
YES, I WANT IN!
NICE TO MEET YOU
I'm Jody Hartstone
I'm a dressage rider based near the town of Raglan on New Zealand's North Island. I've won numerous National Titles and competed internationally at Grand Prix level for many years on various horses. I have a science-based focus in my training which is centred around Learning Theory - the science of how animals (and humans!) learn. I love helping riders of all ages, levels and stages to better understand the requirements of competition dressage.
"Jody Hartstone is an invaluable coach that I keep coming back to because she meets the horse and rider where they're at and enthusiastically helps you reach your goals in dressage. I'm so grateful I have had the opportunity to learn from Jody! "
- Becky Minton
"As well as improving the way of going for my horse and I, Jodys knowledge is extensive in test riding which really makes her approach to competing the package deal."
- Emma Dickons
"Jody has given me the confidence to train my own horse through the dressage levels and develop my understanding of how horses learn."
- Lena Hayes
START TODAY!
Getting Started with Dressage
7-DAY MONEY-BACK GUARANTEE
If you aren't completely satisfied with the Getting Started with Dressage course, let us know within the first 7-days for a full refund. No questions asked.
"I loved this course: I learned so much. Not only did it help us ride our first ever dressage tests together, but we made lots of progress in our ridden work, and in my knowledge of what it takes to go out and do a dressage competition. Looking forward to giving our first one a go!"
- Katherine
"I rate Jody as a coach due to her passion. She wants to ensure horse and rider are happy, confident and safe. This is both at ground level, and onboard. She's realistic, she understands, but knows when to push as necessary. She's a fantastic communicator, and I love working with her."
- Kyrie
"Jody Hartstone
Jody has helped me understand how to train my horse effectively and ethically, and has made huge changes to both me and my horse through our lessons. I love how she thinks outside the box when needed, and always has the horse's best interests at heart. Her methods are easy to follow and make sense, which makes it easy to carry on with at home between lessons. Totally recommended!"
- Jodie
How long will the course take?
Will I have ongoing access to the course?
Am I able to have lessons with Jody?
I loved this course and want more! What other courses do you offer?
"This course has given me all the tools I need to get my horse from wobbling around at home to riding straight lines and executing bending lines and circles with amazing accuracy. I thought it would be years before I would be able to perform a dressage test but I now have both the skills and the confidence to hit our first competition in just a few months."
- Philippa
"I knew we would have hidden buttons to help get some bend as my horse works incredibly straight, I just didn't know how. Spending quality time with Jody was worth it's weight in gold. I now have the confidence in asking for much more each ride. Thank you both for an incredible opportunity."
- Charlie
START TODAY!
Getting Started with Dressage
7-DAY MONEY-BACK GUARANTEE
If you aren't completely satisfied with the Getting Started with Dressage course, let us know within the first 7-days for a full refund. No questions asked.